Quilt Repair Services
Our Mission
Since the early days, in every household rich or poor women sewed. Quilts themselves are pieces of our social fabric. We know that you love quilts and want to have them repaired so that you can continue to use and enjoy them. This knowledge drives us to take every step possible to make sure your quilt is handled with more than just care—with earnest respect.

Our mission is quite simple, to help people see that Antique and Vintage Quilts should never be thrown away when it's time to clean out the closet or garage. We have always recognized the potential for revitalization—even for the most damaged of family quilts.

By working with you to discover the history behind your quilt, we can help you see the value of where your quilt came from, what type of fabric was used to make it, or even perhaps to shed a little light on who really created it. Our process is simple, we ask and then we listen.
| | |
| --- | --- |
| We Ship NationWide! Free Shipping with orders $200.00 or more! | Quilt - Quilt Shop! Free Gift! with orders $250.00 or more! |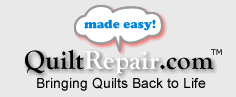 Textile Repair Studio | www.quiltrepair.com | Copyright © 2006-2010 | All Rights Reserved
> By, C3i3 Interactive <